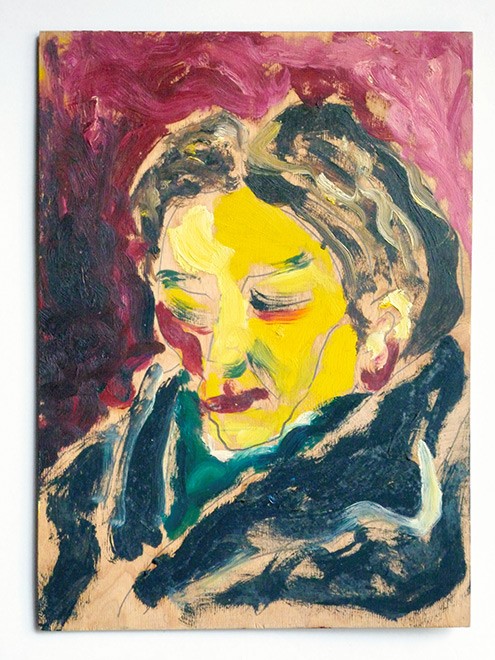 Portrait rated as a work by writer Osamu Dazai exhibited for the first time
A portrait drawn by literary giant Osamu Dazai (1909-1948) is on display for the first time since its creation more than 70 years ago.
It is on display at the Mitaka City Gallery of Art in western Tokyo until July 24.
Executed in purple, navy, and other dark colors on a drawing board measuring 33.2 centimeters by 24 centimeters, the painting depicts an individual with his eyes closed.
It is impossible to tell whether the person is male or female, young or old. The identity of the model is also unknown.
We wondered if the portrait had indeed been drawn by Dazai because it lacks an inscription on the back or the signature of an artist. But an expert commissioned by the city government concluded that it must have been drawn by the novelist.
Dazai spent his later years in the city of Mitaka and frequented the studio of painter Hamae Sakurai (1908-2007) in the neighborhood to draw.
According to the city government, nine paintings have been confirmed to have been drawn by Dazai, but he is believed to have created many more.
The portrait was in the possession of Tatsu Ishii (1923-1964), an editor in charge of Dazai's "No Longer Human" and other works. But he died without providing details of the play.
His family members kept the painting in a box because they weren't sure if it was drawn by Dazai.
They began considering donating the portrait to the city government after visiting the Mitaka City Gallery of Art in 2018, when Dazai's nine paintings were exhibited.
When city officials asked an art expert to evaluate the portrait, they learned it was created in 1947 or 1948.
Oil-based materials, rare at the time, are used as in Dazai's other works. The portrait also shared other similarities, such as the size of the sketch board and the bold brushstrokes.
The expert determined that it was drawn by Dazai. The deciding factor was that it had been kept by Ishii.