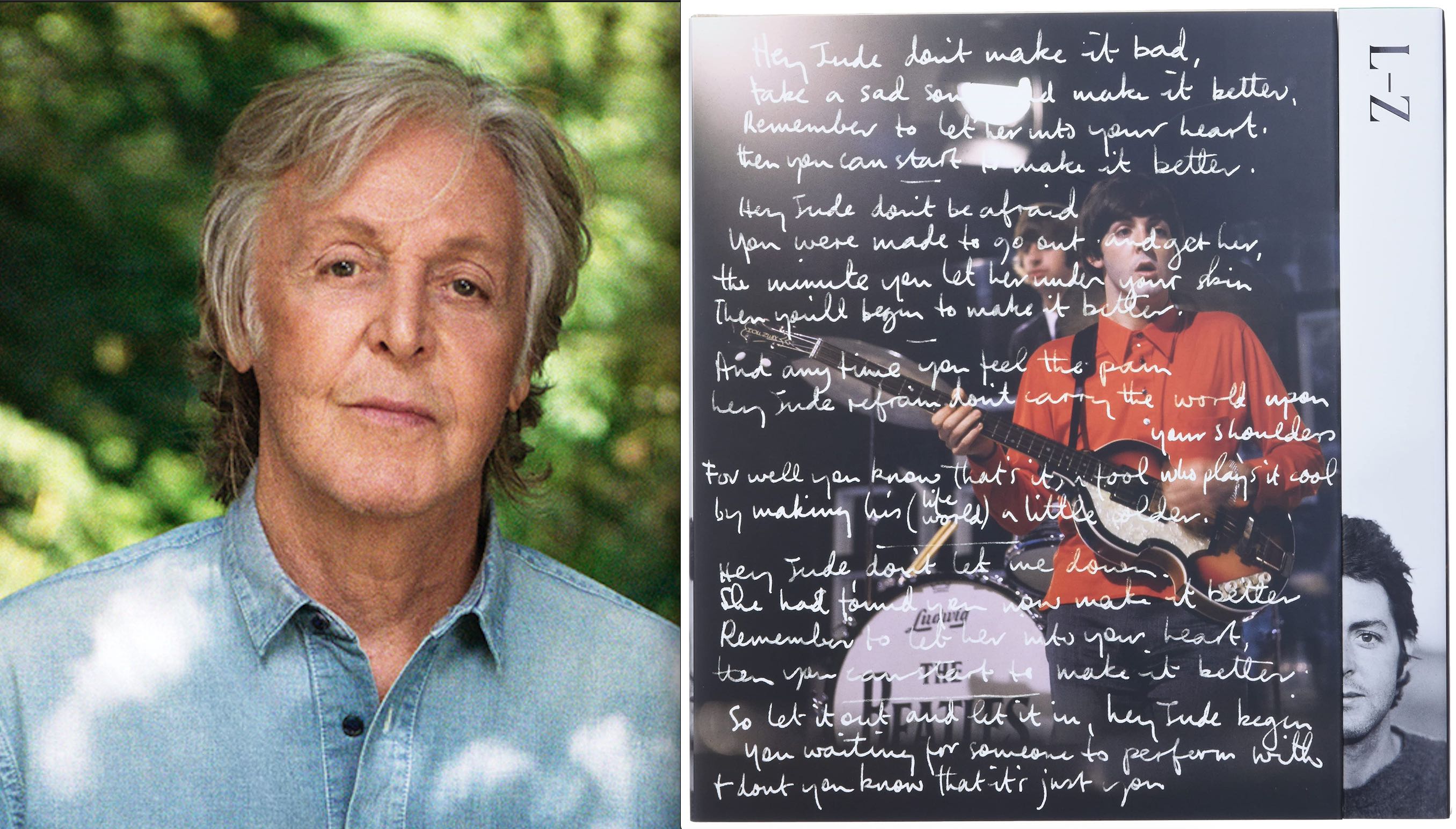 Paul McCartney as Writer | The East Hampton Star
"Words"
Paul McCartney
Live right, $100
Two weeks before his 80th birthday, Paul McCartney has hardly slowed down. It will wrap up a US tour with a concert at MetLife Stadium in East Rutherford, NJ, two days before that milestone, then headline England's Glastonbury Festival a week after, on June 25, coincidentally the performance's 55th anniversary. of the Beatles. of "All You Need Is Love" on "Our World", the first international live satellite television production.
Last July, Hulu launched the documentary miniseries "McCartney 3,2,1," in which he and producer Rick Rubin dissect and bring greater context to the former Beatle's monumental production. In November, Peter Jackson's remarkable "The Beatles: Get Back" forced a wholesale reassessment of the January 1969 sessions that produced the Beatles' swan song, "Let It Be." More than half a century later, Mr. McCartney and his former band, one way or another, are still giving.
Also in November, "The Lyrics: 1956 to the Present", a two-volume collection containing 154 songs written or co-written by Amagansett homeowner Mr. McCartney. After two weeks of review, I still don't know how to rate it.
Still in their early twenties, Mr. McCartney, John Lennon, George Harrison and Ringo Starr broke free from the restraints and tore up the rules of popular music, influencing culture far beyond new rock 'n' roll music. . Isn't that why we love them so much? Isn't that why "Yesterday" and "Here Comes the Sun" and "A Day in the Life" will be known centuries from now, in case civilization gets that far?
Likewise, this assemblage of lyric sheets, personal memories, photographs – many of which were previously unpublished – and handwritten lyrics, notes and drawings is unconventional. It's not quite an autobiography, nor a photography book, nor strictly song lyrics like poetry. Maybe it's my impulse to categorize, though I wouldn't do that with the music, but "The Lyrics" leaves this superfan a little disappointed, not to say perplexed.
"More times than I can count, I've been asked to write an autobiography, but the time has never been right," says McCartney. Alright, so that's as close as it gets. And that's where "The Lyrics" is often sublime, but almost as often meandering. From "Here, There and Everywhere", which he calls his favorite from his own catalog, he reveals Cole Porter's "Anything Goes" as inspiration for his opening lines. "My favorite phrase is 'Change my life with the wave of a hand'," he wrote. "I look at that line now and wonder where it came from. .
He is often precise in his recollections, and he writes movingly of his parents and extended family, describing drunken holiday reunions, aunts gathered around the piano to sing along while his father, an amateur musician, banged the standards. Only later, he writes, did he learn that not all childhoods are happy, citing Lennon's tortured upbringing.
He occasionally references his paintings – there are hundreds of them, by his count – and an uplifting exchange with Willem de Kooning, who lived in Springs. Several of the photographs, including one of Mr. McCartney with the late Abstract Expressionist painter, were taken in East Hampton Town.
He is also shown to be a voracious reader, often recalling books read in school and the influence of certain teachers throughout his life. The works of Shakespeare and Dickens are often quoted, as is contemporary literature and the "Observer's Book of Birds", cherished in childhood and perhaps a clue to titles like "Blackbird", "Bluebird", "Two Magpies " and "Single Pigeon". But did he have to announce that "John never had anything like my interest in literature", before adding, in the same sentence, that Lennon "was very fond of Lewis Carroll" and that his house housed "lots of Churchill books"?
Like any great artist, he is a keen observer, and so moving are the memories that fueled "Penny Lane". "I walk past it to this day," he wrote, "showing people the barber shop, the bank, the fire station, the church I used to sing in, and where the girl was standing with the tray of poppies while I waited for the bus. That pretty nurse. I remember her very well. It was Remembrance Day, and she had a tray full of paper poppies and name tags.
But the commentary including much of "The Lyrics" is drawn from 50 hours of conversation, over 24 sessions between 2015 and 2020, with poet Paul Muldoon. The result is often disjointed, the lyrics and the accompanying prose are inharmonious. Along with the forgettable lyrics to a track from a forgettable 1980s album, it reflects on life as a musician, followed by a single paragraph about the song, followed by several hundred words about the early days of the Beatles, and finally a few paragraphs on the greatness of Buddy Holly. No arguments there, but I still feel sideways.
And about those lyrics: it's unfair to characterize Lennon as the smith of words and Mr. McCartney the smith, even if that works as a generalization. The lyrics to "For No One," "Here, There and Everywhere," "The Fool on the Hill," and post-Beatles tracks like "Little Lamb Dragonfly" and "Tug of War" hold their own, and examples of his own puns abound. On the other hand, as I type this sentence, Lennon's "Across the Universe" is playing on SiriusXM Radio's Beatles channel. Call the generalization unfair, but Lennon wins.
More importantly, however, what matters is the support. Without the brilliant melodies and harmonies, that unmistakable voice, the crackling electric guitars, the propulsive drums, the chemistry between the musicians, the screams and screams of the Beatles' fiercest rockers, we are left with passages like
Check
my device
Check
my device
Check
my device
Check
my device
I want you to check
my device
Check
My device.
Black letters on a white background. If you're a fan, you should already know the lyrics anyway, but not necessarily on this obscure B-side. So why is it included?
In fairness, though, among the lyrics to "The Lyrics" are "Silently close her bedroom door / Leaving the note she hoped to say more" and "Silently turning the backdoor key / Leaving , she's free". "She's Leaving Home," by the "Sgt. Pepper's Lonely Hearts Club Band," was inspired, he writes, by both a newspaper article about a missing girl and, likely, a TV play that aired in November. 1966. "The detail of leaving a note that she 'hoped to say more' is one of the song's strongest moments," he wrote. "Like many writers, I'm fascinated by what's missing in a play."
"The Lyrics" is interesting enough – how's that for low praise – but a straightforward autobiography with photographs might have been a better offering. The accompanying commentary "Say Say Say", an early 1980s duet with Michael Jackson, illustrates the book. His description of the single session that spawned him is, yes, quite interesting, but there's also this very sound advice: "For me, writing a song is just following a track, then deviating from it. and pound a new path. I put on some sort of map, some rough coordinates, and then go out there and find stuff along the way, just picking up little objects that happen to be lyrics or melodies."
The finished product, he says, "isn't just something that takes up space in the world. Hopefully, it helps define the world."