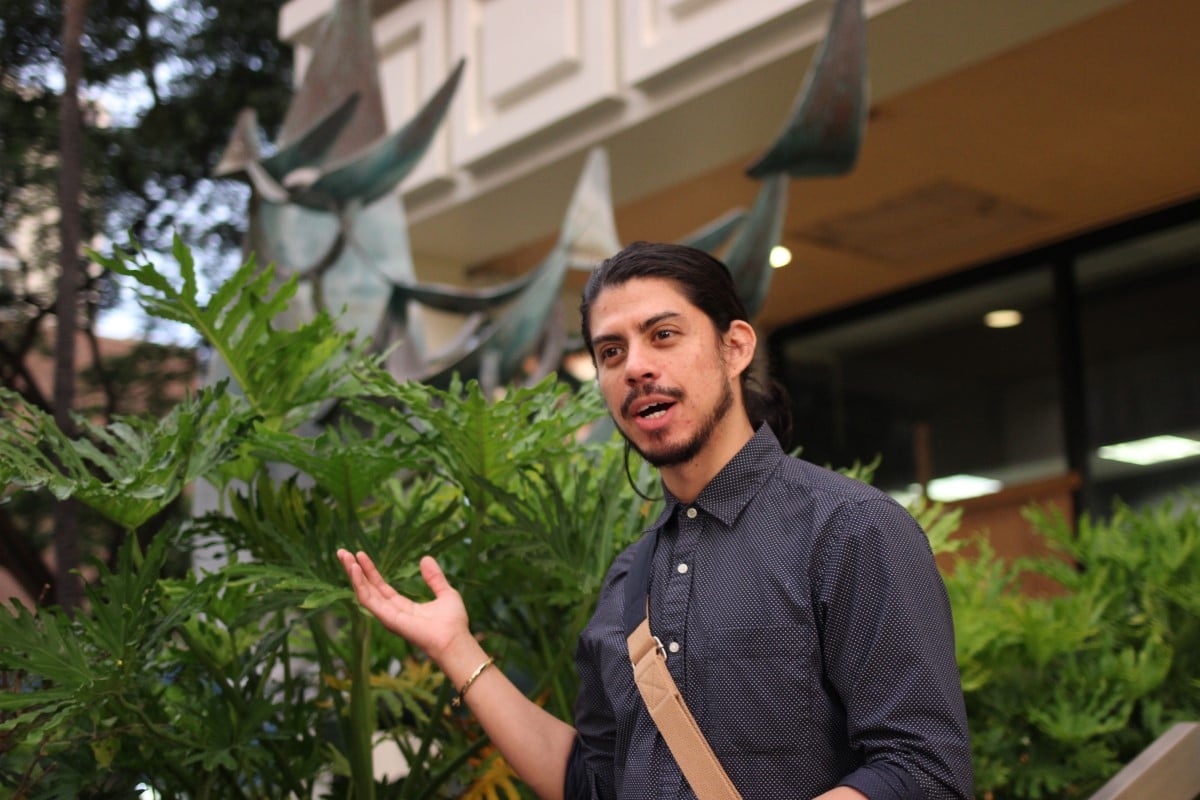 Learn about public art sculptures around O'ahu with free virtual tours
Brian Linares is like a walking encyclopedia of the history of contemporary art in Hawaii. Filled to the brim with insight into art and a desire to share it, Linares is the founder, curator and tour guide of Exhibition Grid. Before the pandemic, he took groups of art lovers on walking tours of downtown Honolulu, where a significant amount of public art can be found. "Exhibition Grid is a work-study compass and a hopeful interdisciplinary adventure in researching or informing contemporary and modern art across Hawai'i," says Linares. It partnered with 88 Blocks earlier this year with sold-out walking tours for the Hawaii Triennial opening weekend. After the popular tours, the Hawai'i State Art Museum reached out to Exhibition Grid to produce 10 exclusive Instagram reels that showcase public sculptures from the Hawai'i State Foundation on Culture and the Arts' Art in Public Places collection around O'ahu.
The virtual tour format allows Linares to reach a wider audience and connect people with the work in a different way. This digital collaboration with HiSAM kicked off this week and will run through November. You can go to @hawaiistateartmuseum on Instagram and tap the bell icon in the top right to get notifications for new posts, including new reels every week. Be on the lookout for in-person art tours with Exhibition Grid starting before the end of the year.
HONOLULU Magazine: Where does your passion for sharing art with others come from?
Brian Linares: Memories of driving early into town to school from Kailua to head into the Makiki/Tantalus hills and eventually locating art at libraries, schools, airports and parks. It's a shared experience, but I've noticed that most people neglect or behave differently with work. A testament to being a bit nīele, which, according to e-hawaii.com, translates to nosy, inquisitive, and inquisitive. Notice the random object: it responds with the context and connection, or find the creator's name or the title of the work. You already live with this object on the way to your usual route, so you might as well stop and find out more.
HM: What is your philosophy of public art?
BL: Living with the art of understanding who we are as complicated humans. View all of the artwork as you would Hawaiians, with aloha. Everyone has a story and everyone has different ideals.
HM: How did this collaboration with Exhibition Grid and HiSAM go?
BL: While working in various art galleries and an experimental contemporary art room, I always wanted to see an investigation type tour of art in public space. I shared this with the Art in Public Places team not long ago. Their fantastic community contributor, Aly Ishikuni (director of Mori, Bās Bookshop and Art + Flea), knew what I had an interest in producing. Luckily, creative digital media saved the notion in a commissioned mission. A terrible way to thank the digital addiction of the pandemic confinement that we have had to face.
HM: You are very familiar with public art here in Honolulu and local art history. Where did you learn all this information?
BL: I ask collectors of these artists, because most artists also have works of art in public spaces. The library card is the most effective service to know these works. Also, reviewing the sites and publications of sfca.hawaii.gov, Laura Ruby (writer, educator, and artist) and many other producers of public art maps in Honolulu.
HM: What are your three favorite pieces of public art and why? And will they all be included in the virtual tours?
BL: Such a cruel question (totally sarcastic voice), but honestly, I haven't made up my mind, especially since I haven't experienced them all in person. But so far, Thomas Woodruff's artwork titled "Carolina" on the Maui High School lawn; all members of Chateau Metcalf; anything Solomon Enos, Isamu Noguchi, John Koga, Laura Ruby. See, now you make me feel like an art snob. Please, next question, haha.
HM: What would you like people to take away from your virtual tours?
BL: Go out, look at the works, share the space with them and discover their form and purpose. Let it test you and make you feel good after a hard day. See what you recognize from a past moment or the feeling you felt most alive. Now that we have smartphones and tablets, it becomes more accessible for them to walk/ride/run/drive to.
HM: Do you have anything else to add?
BL: I love the scatter method of seeing art here in Hawai'i. I hope you too.
For more information on art tours with Exhibition Grid, follow @exhibition_grid or go to exhibitiongrid.com. For more information on the Art in Public Places program, visit sfca.hawaii.gov/art-in-public-places-program. Follow @hawaiistateartmuseum on Instagram.
---
Lisa Shiroma is a correspondent for HiSAM and is an artist and art educator. Lisa is the former owner of the HiSAM Museum Gallery Shop, which she ran with partners Aly Ishikuni-Sasaki and Travis Sasaki of Mori by Art + Flea from 2017 to June 2020.