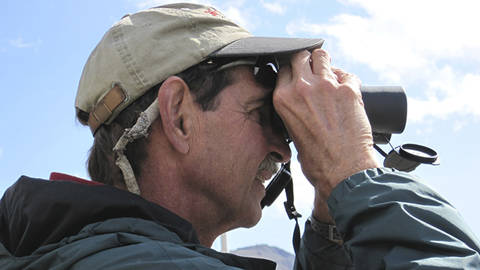 In memory of Frank Soos, former award-winning Alaska writer and professor of creative writing
Former Alaska award-winning writer and professor at the University of Alaska Fairbanks, Frank Soos, has passed away. Soos was on a solo bike ride in Maine last Wednesday when he suffered a fatal accident.
Frank Soos was born in 1950 and raised in the mining town of Pocahontas, Virginia. His parents had a market and this education taught Soos and his brother the value of hard work and community. Soos has never lost his regional accent or his self-defeating courtesy. While his literary interests originated in high school, they caught fire at Davidson College.
"Davidson sort of looked like that dream," Soos said in 2019. "There were all these guys sitting under the trees reading books and talking. I thought, wow, if it's college, I can do it.
At Davidson, Soos would meet his longtime friend and sometimes collaborator, art historian and painter Kesler Woodward. After college Soos taught high school for a while and found out he liked it, but life as a writer beckoned him and he entered the Creative Writing Program at the University of L 'Arkansas, where he earned an MFA. Soos said higher education was unexpectedly enlightening.
"It was a horrible program," he said. "It was intentionally cruel, and I decided I would never participate in a program like this if I was a teacher."
These lessons found expression when he joined the English department at the University of Alaska at Fairbanks in 1986. There he met poet Peggy Shumaker and together helped forge a creative writing program. which has attracted writers from across the country and trained a new generation of renowned Alaskan authors.
"We had graduate students coming to me and I was like, 'Here's where you can compress,'" Shumaker said. "And then they would go to Frank and Frank would say, 'Well, maybe this is a place you can do it longer. "And I'm sure we confused a lot of students at first, but believe it or not, it worked.
Shumaker said Soos was the most generous teacher she had ever met.
"You learn when you are a teacher that if you put demands on students, you will impose them on yourself," Soos said in 2019. office and read a lot of articles and make a lot of comments to prepare for all these lectures . This is teaching.
This commitment to hard work extended to her writing. Shumaker says that in addition to his elegantly crafted phrases and odd ear for dialogue, Soos continued to write no matter what.
"He worked for decades with very little recognition and then all of a sudden he had two pounds at a time," she said. "And he was typically modest. But what he always did, in good times as in bad times, he just kept plugging in.
This tenacity saw Soos win the Flannery Connor Prize in 1998 and become the Alaska Winning Writer in 2014. A posthumous collection of Soos stories is expected to be released in 2023.
While Soos has always claimed to be a loner, he has managed to form a series of creative collaborations – with Shumaker and the painter Woodward and more intimately with his wife and artist Margo Klass. He is also inextricably linked to the Fairbanks bike and ski clubs. Longtime friend and fellow Nordic skier, Susan Sugai said that while Soos does not compete in races like the 50K Sonot Kkaazoot, he does volunteer bibs or timing races.
"He knew times are important to people," she said. "It's not necessarily the people who win, it's the people who participate and try to improve. He liked it.