Could this outback mystery be our next Aussie classic?
Lost children have always found their place in the popular imagination. Fairy tales Hansel and Gretel and Little Red Riding Hood to real-life cases like that of Madeleine McCann, children who go missing have long carried symbolic meaning with them on their journeys into the unknown. Innocence flouted, society corrupted.
In Australia, they also bear the brunt of colonialism. They are entangled in the concepts of whiteness and wilderness. European children wander from fenced homes and schools, places of safety and security, into the unconfined landscape, 'the bush', 'the outback', 'the desert'. Think of Frederick McCubbin's 1886 painting Lost, 1899 poem by Henry Lawson babies in the bushJoan Lindsay's 1967 novel Picnic at the hanging rock or Kim Farrant's 2015 film Foreign country. In his book The land of lost children: an Australian anguishacademic Peter Pierce has argued that missing children epitomize "essential, if not completely resolved, anxieties within the white settler communities of this country."
This is where Fiona McFarlane's fascinating second novel comes The sun sets which opens with the disappearance of six-year-old Denny Wallace during a dust storm. Set in the Flinders Ranges in the colony of South Australia in 1883, the story takes place over a single week as residents of the fictional town of Fairly search for the missing child. The narrative flows between their points of view, including, to name a few, a headstrong teenage girl, a Swedish painter, a troubled clergyman, and an Aboriginal train station worker.
The search is set against the backdrop of unusual sunsets, the sky turning an "apocalyptic red" that alarms residents so much they first think there is a smokeless fire burning on the horizon. It's a story with the quality of a myth or a fable, which somehow manages to seem both sober and endless. And if that all sounds like a bit of a stretch, rest assured it's a gripping mystery (American novelist Ann Patchett called it "compulsively readable").
McFarlane, who speaks to me via video from the University of California, Berkeley, where she has taught creative writing since 2019, says the novel's genesis was a road trip to the ancient peaks and gorges of the Flinders Ranges. She had been to Adelaide Writers Week to promote her acclaimed debut, The night guest, who was shortlisted for the Miles Franklin Prize in 2014, and was working on her next book, the collection of short stories The High Places.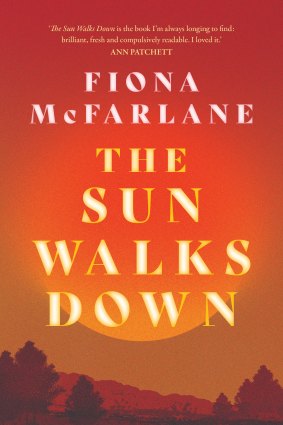 McFarlane was struck by the beauty of the area and the haunting colonial ruins scattered across the landscape, from entire abandoned townships to isolated chimneys rising from dusty enclosures, each a sign of abandoned life. The images stayed with her and she began to think of Australian history as a series of troubles, starting with the British invasion.
"As soon as I realized that the Flinders Ranges were so fascinating to me that I had to write about them and that I really wanted to write about them at the end of the 19th century, it occurred to me that I 'was now writing a colonial novel about the outback. . I was a little scared of it,' says McFarlane, who was born in Sydney, where she graduated in English from the University of Sydney, before continuing his studies at Cambridge and the University of Texas.
"I thought if I had to do this, why not look at one of those mythological tales that have been part of shaping Australian culture for better or for worse, and separate it for a bit while I write my novel? It very deliberately picks up on the cultural narrative of the lost child, but in a way that I hope subverts it a little, separates it a little, pierces it a little.