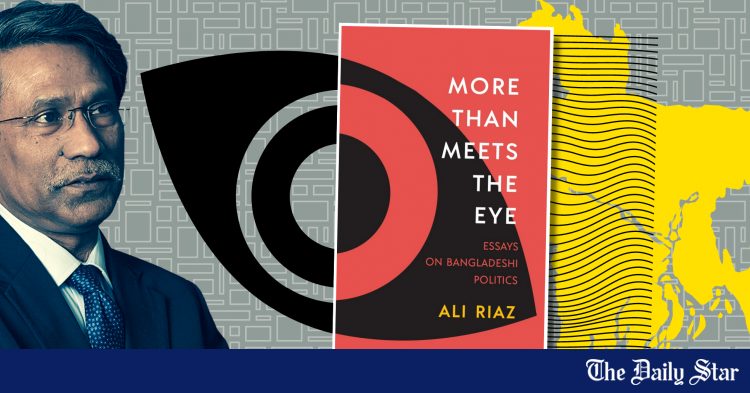 Ali Riaz's 'More than Meets the Eye' and a writer's responsibility
I have followed Professor Ali Riaz's writing for a long time and I remain amazed by the prolificacy and eclecticism of his work. On July 23, 2022, Dhaka's University Press Limited (UPL) held a publication ceremony for its book at its headquarters in Farmgate More than meets the eye: Essays on Bangladeshi politics (2022). The event was streamed live on UPL's Facebook page, allowing me to attend remotely from Kuala Lumpur.
Really more than meets the eye, the book is about contemporary politics and the erosion of social and political institutions in Bangladesh. Ali Riaz examines the deep social fractures that have weakened the country's civic life and cohesion. Participants at the release ceremony lamented the policies of what they called an "authoritarian" government that has ruled Bangladesh for more than a decade.
As Bangladeshis, whether at home or abroad, we are closely following its political and other developments. We are aware of most of what is happening in the country and reported in the media. Therefore, it is almost impossible for the author of such a book to say something new or completely unheard of.
At the publishing ceremony, some suggested (but not cynically) that much of what the book is about is what we Bangladeshis already know. What's more, some have looked to the author for solutions to the political ills he diagnosed in the book.
Since I attended the event virtually, my ability to participate in the discussion personally was limited. I meant that some audience members seemed to have missed the fact that a writer's job isn't always to say something new or original, especially when acting as a social or political commentator. . Nor is it necessarily their duty to find solutions that will transform a country into a land of freedom and opportunity.
In her powerful essay "The Small Personal Voice" (1957), the British-African writer Doris Lessing argues that a writer writes out of "a sense of responsibility, as a human being, for other human beings". She sees the writer as "an architect of the soul" who must know the nature of the soul he wishes to persuade. A good writer writes what he sees and what we see, even if he can sometimes reveal what others may have missed. The writer has a greater ability to articulate our shared experiences and critique underlying socio-economic structures.
A writer is no stranger to society. They are with us and share similar desires and interests. Our collective human problems and struggles often form the basis of their writings, as they synthesize and represent our ideas and imaginations. Therefore, when we seem to identify with what we read, we indirectly testify that the writer has captured our interest and is successful in his efforts to develop a meaningful relationship with readers.
Given the prevailing culture of impunity and the stifling of dissent in Bangladesh today, the author of More than the eye can discern on his courage to reasonably challenge him. He took the leap as many harbored fear of victimization and retaliation. There may be others – in the country and beyond – with comparable intellectual abilities but who seem to have been silenced by economic inducements or intimidation, or by positions and advantages. In this sense, Ali Riaz does not belong to those writers who, in the words of Doris Lessing, "can be silenced by fear or economic pressure".
In his book Representations of the intellectual (1994), the Palestinian-American public intellectual Edward Said argues that a true intellectual who seeks to represent his people cannot be "a civil servant or employee completely devoted to the political objectives of a government…In such situations, temptations to turn off his moral sense … are far too great to be trusted". Here, Said emphasizes two key attributes in a writer's repertoire: intellectual independence and integrity. In Decolonize the mind (1986), the Kenyan writer Ngũgĩ wa Thiong'o identified the category of "state intellectuals" who lack such ingredients and therefore do not engage in egalitarian goals.
The term 'buddhijibi' has permeated popular discourse in Bangladesh. It usually refers to urban writers and intellectuals of a certain persuasion. In response to a question from the audience during the release ceremony, Ali Riaz warned against the massive and indiscriminate use of the term. He is hesitant to bestow this designation on self-proclaimed, self-serving intellectuals who are silent about the civil liberties abuses and socio-political problems that have beset Bangladesh.
In this respect, Ali Riaz seems to think along the same lines as the famous Nigerian writer Chinua Achebe. In an essay entitled "The Black Writer's Burden" (1966), Achebe states: "One of the main functions of the writer has always been to expose and attack injustice". That is, when a writer avoids this responsibility of exposing the truth about a government, he actually takes the writer's badge off his neck.
South African writer Nadine Gordimer suggests that a writer should not shy away from speaking truth to power even if it makes it political. She says, "If you write honestly about your society and society is in turmoil, you become a political writer." Morally, one cannot remain a detached scholar and observe events of injustice and suffering from above.
Establishing the untenability for an academic to remain alienated from the human condition, Ngũgĩ wa Thiong'o asks these rhetorical questions: "In a society built on a structure of inequalities, where do we stand? Can we remain neutral, cocooned in our libraries and scholarly disciplines, mumbling to ourselves: I am only a surgeon; I am a scientist; I am an economist; or am I simply a critic, a teacher, a lecturer?
Writers and intellectuals are compelled to discuss the conditions of their fellows. They embody the sensitive and artistic consciousness of their people. It is their responsibility to stir up moral outrage at the gross injustices and plight of the masses. Readers receive cathartic pleasure in return after reading what the writer has said about them. In "African Literature and Social Problems" (1975), Romanus Egudu states that by describing people's hardships, writers provide readers with "intellectual delight amidst tears". WH Auden puts it most nicely in his "In Memory of WB Yeats":
Am, poet, am well
Deep in the night,
With your unconstrained voice
Persuade us always to rejoice;
With the agriculture of a verse
Make a curse vine,
Sing of human failure
In a rapture of distress.
Finally, British writer John Osborne came to mind when an audience member at the UPL event urged Ali Riaz to come up with solutions to the problems he describes in More than Meets the Eye. Reflecting on his role as a writer in 1950s Britain, Osborne said in his essay 'They Call It Cricket' (1957): "I am a writer and my own contribution to a socialist society is to demonstrate these values ​​in my own medium, not to discover the best ways to implement them".
Accordingly, Ali Riaz has used his background in political science to comment on the new "political settlement" that has developed in Bangladesh and to articulate the threats it poses to the country. However, providing solutions is not the task of the writer alone. This will require the participation of many stakeholders at different levels.
Md. Mahmudul Hasan teaches English and postcolonial literature at the International Islamic University of Malaysia. Email: [email protected]