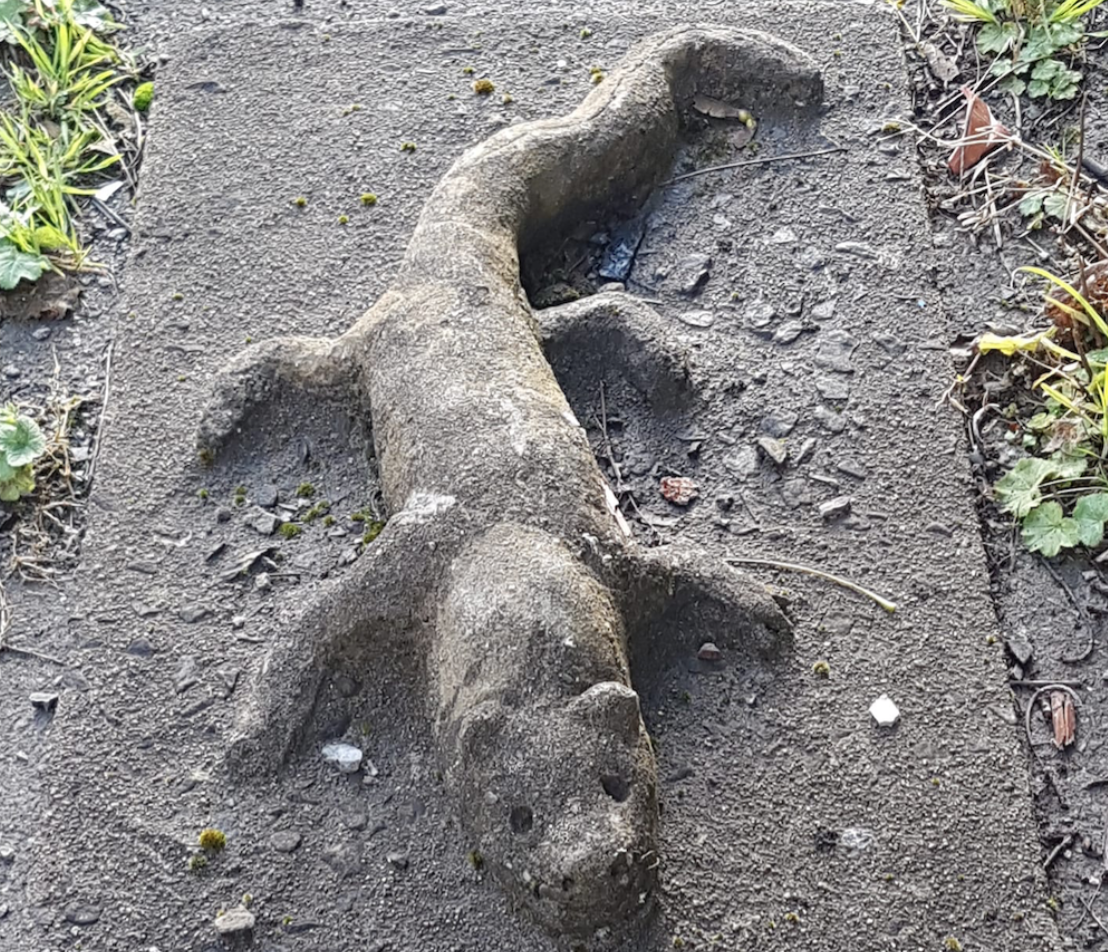 AHS sculptures, gas field, net zero funding, island research and more …
THE BOARD has "no immediate plans" for two sculptures which were made accessible following demolition work at the former Anderson High School.
The sculptures, which stood in a courtyard at the Janet Courtney Inn, are believed to have been the work of students in the 2000s.
They have been "well regarded over the years" in the courtyard but only became accessible after the walls were removed.
A spokesperson for the Shetland Islands Council said: "These sculptures were previously located in a courtyard of the Janet Courtney Inn which has now been removed and the sculptures are therefore now visible and accessible.
"There are no immediate plans for the sculptures and they will stay where they are for the time being."
---
The operator of the SHETLAND gas plant, TotalEnergies, does not comment on reports that it plans to sell a third of its stake in the Laggan-Tormore gas fields.
Gas extracted from the fields is piped to the plant near the Sullom Voe terminal.
Reuters reports that TotalEnergies is looking to sell a third of its 60 percent stake in the fields.
The fields are located in the north-west of Shetland.
---
A SHETLAND project will receive a share of a £ 1.47 million funding item for the net zero transition.
Financial support comes from Highlands and Islands Enterprise.
More details on the Shetland-based project awaiting funding are expected to be announced soon.
Scottish Government Tourism Minister Ivan McKee said: 'With less than a month to go before COP26, this funding will help tourism businesses across the Highlands and Islands meet our net zero targets, reduce carbon emissions and to develop innovative experiences for visitors. "
---
ISLAND-based researchers at the University of the Highlands and Islands are inviting like-minded people from around the world to join a new series of free seminars starting today (Thursday).
The Islands Matter Collaborative Program was established to strengthen the university's pan-island research activities and foster global networking connections.
Each seminar addresses a range of island economic and cultural topics and issues to facilitate new ways of thinking and collaborations by sharing learning and research among island communities.
Dr Andrew Jennings of the Institute for Nordic Studies at UHI said it was "a pleasure to work with his colleagues, Professor Frank Rennie and Dr Beth Mouat, to bring this new series to life."
The first webinar takes place today (October 7) at noon and features guest speaker James Ellsmoor – an entrepreneur, writer and sustainability expert who is described as one of the world's leading island voices.
To learn more and to register to attend, go here.
---
HIGHLANDS and Isles MSP Emma Roddick has welcomed a £ 300million investment in the NHS as part of Scotland's recovery from the pandemic.
The funding will help the NHS get through what is expected to be one of the most difficult winters and 'will ensure an injection of money for health services in Shetlands'.
SNP MSP Roddick said: 'The Shetland NHS has come under incredible pressure as a result of the pandemic and without our heroic NHS staff we would not be in the current situation where cases are declining and we are living with minimal restrictions.
"The Scottish SNP government has already reaffirmed its commitment to the NHS with a 4% pay hike – the biggest pay hike in the history of decentralization. Now it will receive the biggest cash injection in the history of decentralization. "
---
NEVERTHELESS The Northern Islands MSP, Liam McArthur and Beatrice Wishart, have denounced the lack of 'meaningful island verification' in the Scottish Government's Covid recovery strategy document.
The strategy paper outlines the Scottish government's ambition and aims for Scotland's recovery from the Covid-19 pandemic, but Liberal Democrat MPs said it only referred once to island communities.
Wishart said: "The islands faced unique challenges during the Covid-19 crisis. We should see tailored solutions to help alleviate these challenges as we recover.
"All we have instead are commitments well beyond their original deadline. Reheating old broken promises is simply running out of steam. "
Become a Shetland News supporter
News from Shetland asks its many readers to consider starting paying for their fix of the latest local news delivered straight to their PC, tablet or mobile phone.
Journalism comes at a price and because that price goes unpaid in today's rapidly changing media world, most publishers – national and local – are struggling financially despite very healthy audience figures.
Most online publishers started charging for access to their websites, others took a different route. Shetland News currently has more than 490 supporters who all make small voluntary financial contributions. All funds are used to cover our costs and further improve the service.
Your contribution will ensure News from Shetland can: –
Bring you the headlines as they happen;
Remain editorial independent;
Give a voice to the community;
Further increase site traffic;
Research and post more in-depth news, including more Shetland Lives features.
If you enjoy what we do and are very committed to impartial local journalism, then please become a supporter of News from Shetland by making a one-time payment or a monthly subscription.
Support us from £ 3 per month – it only takes a minute to sign up. Thank you.
Already endure? Log in to hide this message.