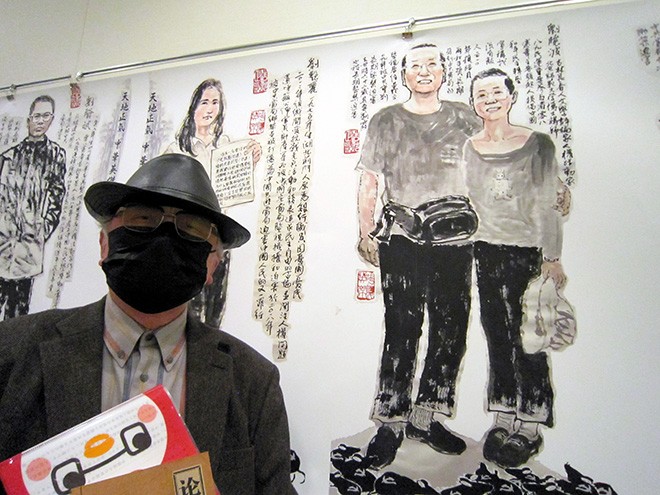 Chinese painter exhibits portraits of 86 human rights activists
A Chinese painter who hides his face behind a mask to remain anonymous organized the first exhibition in Tokyo of his ink and wash portraits honoring 86 human rights champions in China.
The 71-year-old artist, who arrived in Japan in 1987, said he wanted the Japanese to learn more about the deterioration of human rights in his home country and the courage of those who stood up to fight for their rights.
"The Chinese Communist Party is trampling on human rights, but it tries to cover it up from the world," he said in a common Japanese. "A growing number of people in Japan seem to be afraid of China. I thought I had to get up to organize a demonstration.
Originally from Shanghai, the man published his works anonymously for fear of reprisals. He bears the pseudonym Taikan after Taikan Yokoyama (1868-1958), a master of Japanese painting whom he adores.
Strands of gray hair appeared on her temples between her black hat, pulled down over her eyes, and a face mask covering her mouth.
Among the 86 figures presented at his exhibition from December 9 to 10 were Liu Xiaobo, Nobel Peace Prize laureate who died in prison, and his widow, Liu Xia.
Other subjects included Hu Jia, a Beijing-based human rights activist, and Zhang Zhan, a journalist who was arrested as she tried to speak to the public about the realities of Wuhan at the start of the novel coronavirus pandemic.
"They are victims of the oppression of the Communist Party administration, but they have not just lost the game," Taikan said in an interview before the exhibition. "They fight well. I portrayed them with respect.
It is generally believed that many of them were taken into custody by the authorities. They remain inaccessible and are technically considered missing.
The portraits are inscribed with a text explaining the activists' activities and biographies.
The "Exhibition of Ink and Wash Paintings on the Circumstances of Human Rights in China" was held in the Bunkyo district of the capital to coincide with December 10, which is International Human Rights Day. of man.
Taikan, who lives in Saitama Prefecture, accumulated the portraits bit by bit but otherwise kept to himself.
When he decided to show them to the public, his family members in Japan strongly opposed the plan.
His determination, however, never wavered. The painter has cut off communications with his relatives in China so that they "will not get into trouble".
Taikan said that after living seven decades on the planet, he felt a growing need to share his works with the public as well as his feelings about the oppression that plagued his home country.
"I've aged at this point so I thought I should be more open about what I really think," he said. "I just don't want to die in silence like this."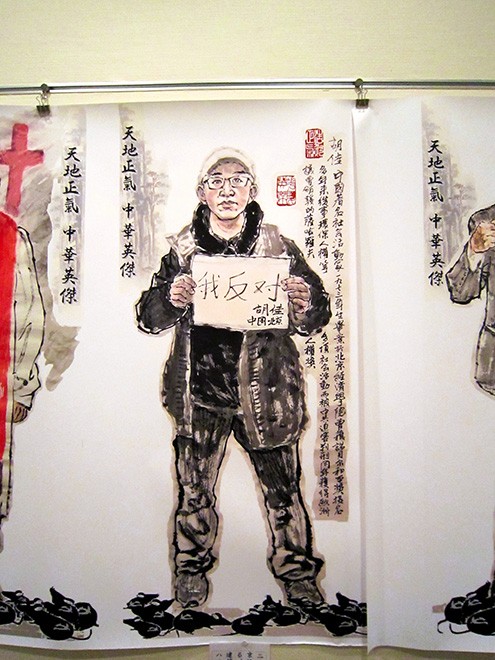 When Chinese students called for more democracy during the Tiananmen Square protests in 1989, Taikan lent Japanese support.
Since then, he has remained committed to improving human rights in China. Yet the painter "stayed behind the scenes and never came out" for fear it could have a negative effect on his business.
"I was hoping the Chinese Communist Party would improve over time, but it never happened," he said. "On the contrary, the human rights situation has deteriorated.
Taikan said he was ready to go anywhere in Japan to hold an exhibition if he had the chance and release his name in due course.
"I don't think it makes sense that a human being is not allowed to show his true colors," he said.